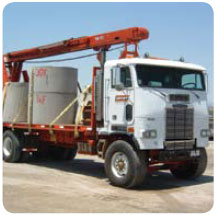 Hayden Concrete Products has been serving Southern Arizona since 1957. We offer underground precast and custom concrete items like manholes, grease traps, and catch basins.
Hayden Concrete Products is one of the largest suppliers of our kind in Southern Arizona. We sell to local general contractors and use special trucks to deliver our products, which can weigh many tons.
We have more than 800 individual components stored on a 10.5 acre yard adjacent to our manufacturing facility. From these, products are assembled to order. For example, a manhole that must be 20 feet deep might require five different items, all of which are kept in stock for prompt assembly and delivery.
Contact Hayden Concrete today and request a quote on your underground project concrete needs. Say you saw us on the web.